FULL-SERVICE TESTING
Robertson Fuel Systems has complete ballistics, crash impact, and slosh and vibration testing services that support testing and certification needs for state-of-the-art primary and auxiliary fuel systems.
CONTINUAL INVESTMENT
Robertson Fuel Systems continually invests in research and the latest technology to test and certify our systems in-house, solidifying our safety leadership role and our legacy of service and survivability. Our advanced testing facilities and services successfully meet and exceed testing certifications and approvals.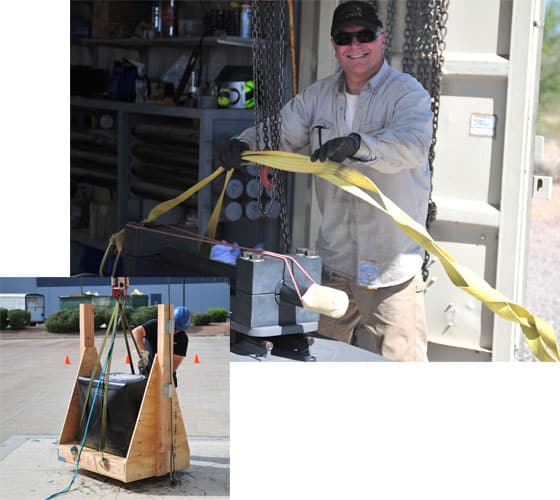 TESTING AND CERTIFICATION SUPPORT
Robertson has full-service ballistics, crash impact, and slosh and vibration testing, which allows us to achieve certification quickly and on a budget. Our engineers manage tests and coordinate with government, airworthiness and OEM representatives to witness testing as required by certification regulations, expediting the certification process.
Our specialized testing, proven in our own product certifications, reduces turnaround times and saves considerable cost over larger all-purpose testing facilities or setting up in-house tests.
BALLISTIC TEST RANGE
We conduct MIL-SPEC standard ballistic testing services at our local Ballistic Test Range Facility on Phase I/II test articles, including:
STRAIGHT & TUMBLED:
7.62 x 39

7.62 x 51

.50 caliber

14.5mm
STRAIGHT:
7.62 x 54

.50 caliber FSP

20mm

20mm FSP
CRASH IMPACT
TESTING
Our facility simulates worst case scenario crash impact testing utilizing our 12-foot by 22-foot crash pad, ideal for testing everything from individual fuel cells to full fuselage assemblies.
65ft – 27422 Phase I/II

50ft – FAR 27/29
SLOSH AND
VIBRATION TESTING
Our slosh and vibration testing mimics vibration during aircraft flight, allowing realistic measurements of fuel response. Once an outsourced service, Robertson's recent investment and certification to offer this testing in-house now saves considerable cost and time.
The 10-foot by 18-foot test rig is capable of conducting MIL-SPEC and FAR slosh and vibration testing for fuel cells in both single and multi-tank systems with fuel volumes up to 1000-gallon capacity.
TEST WITH ROBERTSON
Contact us to learn how we can help expedite your testing and certification with our testing facilities and services.
Together, We'll Save Even More Lives.